on Sat Oct 07, 2017 10:33 am
Message reputation : 100% (1 vote)
This thread will list a few benefits of why – as a beginner – using Game Maker Studio could be an asset in both helping you develop games and projects; as well as eventually releasing your project to the public.
Game Maker Studio can help with making you a more skill-independent developer – i.e. you can do the work of a Designer, Programmer and Artist without worrying that the engine might have some complicated way of doing those tasks that you need to learn.
In Relation to Art
Primarily – Game Maker is built for 2D Games, that being said you could do some 3D games – but you're likely better off going to an engine such as Unity for that.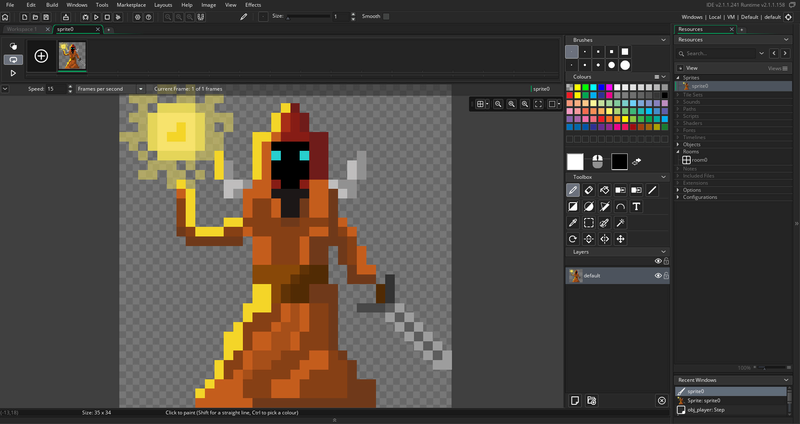 Game Maker has a built-in image editor that allows you to create sprites and other graphical assets within the engine itself. Game Maker Studio 2 specifically, has seen a major upgrade in the built-in image editor by adding 'Layers' among other features.  
In Relation to Coding
This is something that people tend to ask about a fair amount when deciding what engine to go for; how much coding do I have to do, and what coding language would I need to learn? Game Maker is a very good engine for beginners – if you're getting started but have little coding experience, or you simply don't enjoy coding – then Game Maker Studio can help. The engine has its coding language which allows you do a lot once you get the hang of it – moreover, it has a benefit which beginners to programming would likely appreciate; it's not very strict with syntax. What this means is that whilst other languages require you to write code in very specific ways for it to word; Game Maker Language [GML] does not.  
On the other hand – if you're someone who does not want to get into coding – Game Maker features a Drag-and-Drop system that allows you to essentially give behaviour to your game objects without needing to write a single line of code. Game Maker Studio 2 allows you to both see what the code behind Drag-and-Drop functions are, as well as create your own. This means you can more easily learn to code if you want to – or you can ask others to create a Drag-and-Drop function for you that you can use in your projects. Game Maker Studio 2 also has another key benefit over Game Maker Studio 1 – in that the way you use the Drag-and-Drop functions by organising them in Flow Charts. This allows you to better understand how code flows in a logical manner.
An important step towards getting into Game Development is simply by learning, creating your own projects, and persisting when things get tough or feel slow. Finishing projects is important - but starting out, eventually you'll likely learn a lot from a project, and get to a point where starting a new project may be the best way to continue learning. Don't feel too pressured about it, show off what you've made, or simply move onto another project. Just remember - finishing a project, from generating the idea to releasing it to the public - has it's own lessons to teach. Meaning that whilst you will learn a lot at the beginning that starting new projects may be a good way to continue learning - eventually, finishing your projects will be key to you learning certain key concepts. 
If there are topics you'd like to see covered in a blog post - post them here, or contact the relevant moderator; or if you have something to share, post a thread about it!
------------------------------------------------------------------------------------------------------------------------------------------------------------------------------
Personal Game Development Blog:
https://www.moonlitdevelopment.com/
on Mon Oct 09, 2017 2:45 pm
Very useful post. I use Game Maker myself when im teaching my students game development. It's a very versatile engine and easy to get into.

Permissions in this forum:
You
cannot
reply to topics in this forum